About Akro Construction Corp.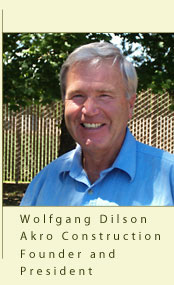 Akro Construction Corp. is committed to building homes which provide sustainable living conditions in a world of increasing environmental problems, accelerating energy costs, diminishing natural resources, and the potential instant loss of energy sources due to natural disasters or accidents. Akro homes exceed the "Oregon High Performance Homes" construction specifications as stipulated by the Oregon Department of Energy.
The company name "AKRO" is derived from the Greek language meaning "high", "superior", or "standing out." Accordingly, "Akro Construction Corp." strives to build "superior" homes guided by the knowledge that energy efficient quality homes offer the least expensive, healthy and comfortable home ownership in the long run.
---